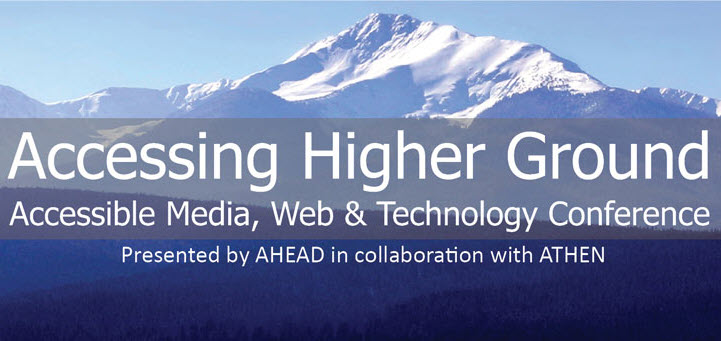 The Center for Instructional Technology is happy to host the Accessing Higher Ground Virtual Conference, and you're invited! Sessions from all five days of the conference will be streamed live in A232 and A342 Gordon Palmer Hall, Monday, November 18–Friday, November 22. Drop by for a session or stay for the entire event, and feel free to bring your lunch (and your friends!). Registration is not required.
Accessing Higher Ground focuses on the implementation and benefits of:
Accessible media, Universal Design and Assistive Technology in the university, business and public setting;
Legal and policy issues, including ADA and 508 compliance;
The creation of accessible media and information resources, including Web pages and library resources.
There is a strong focus on campus accommodation, universal design, and curriculum accessibility as well as best practices for web design, reaching untapped audiences through accessible design, and compliance with existing and anticipated Section 508 and ADA stipulations.
A complete agenda is available on the conference website. As the schedule is subject to change, please check for updates before making the trip to Gordon Palmer. Times on the conference site are in Mountain Time; Central Time is one hour ahead.