There's a new addition to the Texthelp tools freely available to UA students, faculty, staff, and departments: Snapverter for iOS brings the OCR capabilities of Snapverter to iPhones and iPads, allowing you to create readable PDFs, hear them read aloud on demand, and export them to access on your other devices.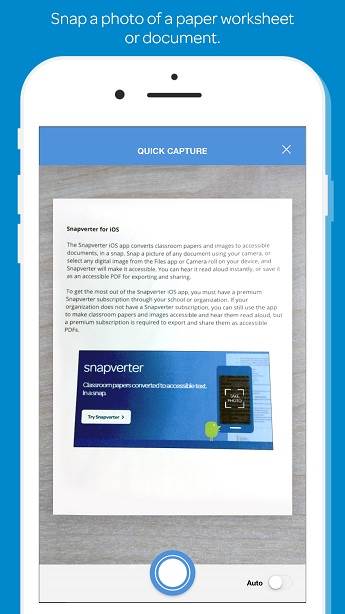 To use Snapverter for iOS:
Sign in to the app with your Crimson Mail account (students) or authorized personal Google account (faculty/staff). Faculty/staff can request authorization for a personal Google account by contacting accessibility@ua.edu.
Snap a photo of a paper document or choose an existing image or file saved on your device.
Once you've taken or selected a photo, Snapverter converts it to readable text. You can then tap your text to listen to it read aloud with dual-color highlighting, adjusting the voice, reading speed and other speech settings to your liking.
You can save and manage your scans in the Snapverter app and export them to Google Drive, email, and more to access them on other devices—for example, opening your new readable PDF in the Texthelp PDF Reader on your computer or Chromebook.
To learn more about Snapverter for iOS, check out this Texthelp blog post: Make documents accessible while on-the-go with the Snapverter app for iOS.