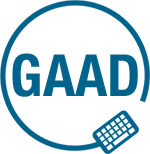 Global Accessibility Awareness Day 2018
Thursday, May 17 is the seventh Global Accessibility Awareness Day (GAAD). GAAD's purpose is "to get everyone talking, thinking and learning about digital (web, software, mobile, etc.) access/inclusion and people with different disabilities." As part of the global GAAD celebration, UA web professionals will discuss web accessibility at the WebTide monthly meetup and Emerging Technology will host the Using WordPress for Accessible Web Development webinar in A204 Gordon Palmer Hall.
Here are some ways you might participate in this year's Global Accessibility Awareness Day activities. 
Experience first-hand the impact of digital accessibility (or lack thereof).
Go mouseless for an hour, resize the text in your browser, learn about and use the accessibility features built into your devices' operating systems, and more—suggestions can be found on the GAAD website.
Watch a video (or several).
Everyone is Different!, from UX Mastery and A11y Bytes, highlights some of the different ways we access digital content and shares some quick tips for creating inclusive user experiences.
Students and faculty with disabilities share their experiences in NCDAE's A Personal Look at Accessibility in Higher Education.
W3C's Introduction to Web Accessibility and W3C Standards provides a quick introduction to the why, what, and how of web accessibility.
We also like W3C's web accessibility perspectives videos, which explore the impact and benefits of web accessibility for everyone.
Read an article or blog post.
We recently published 10 Ways We Can Make The University of Alabama More Accessible. The College of Arts and Sciences' Teaching Hub regularly publishes accessibility-related content. EDUCAUSE's 7 Things You Should Know About IT Accessibility provides a brief overview of technology accessibility and its significance for higher education, while 7 Things You Should Know About Universal Design for Learning addresses how UDL provides a framework for the design of materials and instructional methods usable by a wide range of students.
Take part in an event.
Join us for the Using WordPress for Accessible Web Development webinar at 1:00 p.m. Central in A204 Gordon Palmer Hall or take part virtually. The GAAD website lists several online events, including Blackboard's "follow-the-sun" series of webinars about accessibility in education.
Join the conversation.
The hashtag for Global Accessibility Awareness Day is #GAAD. We'll be posting on the Technology Accessibility Facebook page and via the UATechAccess Twitter account throughout the day—join us!